2nd session of "Monthly FunXploring Talks" ended up being truly inspiring, informative and interactive, where parents and kids were equally enthusiastic as our expert guest speaker Ms. Meghna Bhutoria.
Meghna is founder of MakersLoft. This Kolkata-based STEM training institute offers hands-on STEM training for students from age as young as 5 and has by now trained 5000 students. Through courses focused on Robotics, Lego Activities, 3D Printing & Designing, Programming & App Development, Website Building, Natural Dyeing, Carpentry etc, MakersLoft helps develop specific skills such as Creativity & Imagination, Critical Thinking, Problem Solving and Teamwork.
In this mutually interactive talk, Meghna explained how technological advancements are perceived by kids and parents. How their difference of opinion around it causes friction in their relationships and what are some creative ways to manage this. She further explained what STEM education is, how it exactly develops the skills mentioned above and why it is important to be included in current education system.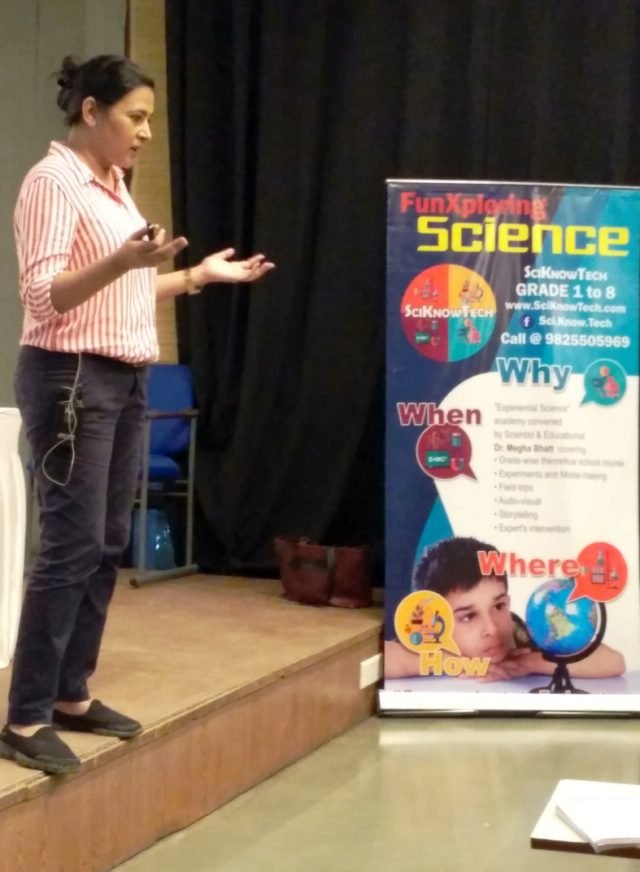 STEM is official acronym for Science, Technology, Engineering and Math. On the same note, there is another equally popular term STEAM where A represents Arts & Craft. The end goal to introduce this educational approach is to cultivate integrated learning that addresses challenges of today's world. It emphasizes that all these subjects are not separate anymore, but one uses them together to think critically, solve the problem, create new solutions and finally to move the world forward by making an innovation.
Do you as "parent" love the gadgets in your home?
We all love the advancements in technology. We also feel thankful and acknowledge how newer gadgets have left positive impact on our lives, how it made us more productive at work and at home too. However, we are protective of our kids when it comes to the time they spend looking at screen devices, their time spent in digital world resulting into less human interaction and the mindshare that it occupies.
During the interactive discussion we got to hear kids' as well as parents' opinion on this. While kids admitted how engaging the games and videos are, parents also had their fair shares of legit worries such as possible negative effect on eyesight, reduced physical activity, reduced family time or human interactions in general, kids drifting away from nature as well as outdoor play and the concept of delayed gratification to name a few.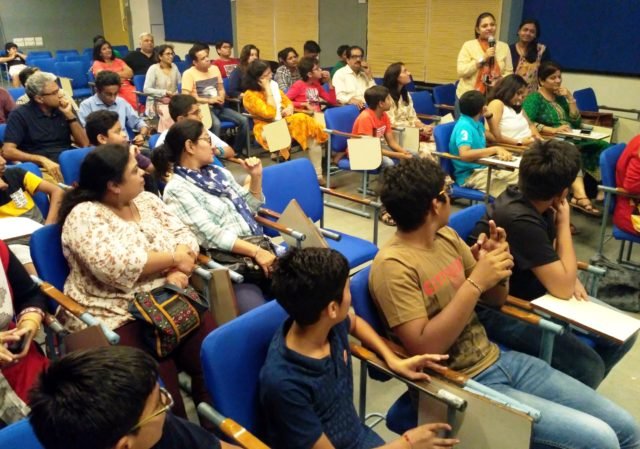 Usage of Gadgets v/s Psychology of Kids & Parents:
It was unanimous understanding of the group that we can neither stop kids from using the new technology, nor we can completely let them take the control of how kids use their valuable time with cool devices, big/small screens and in an unreal world which has risk of compromising their own safety.
Meghna, with her vast experience with kids of various age pointed out that for today's kids, life in a digital world for them is not any separate from their equivalent real world component. For parents' generation, it is generally not true. For most parents, the 2 experiences and the 2 worlds (Real and Digital) are completely different. However, today's kids are born with gadgets around and touch screen is something that they can easily take for granted. Meghna rationalized how most kids know more about how to use any newly launched cool device more effectively than his/her parent(s). In turn how it results into kids feeling superlative and generalizing (erroneously) that how parents do now know anything. This in turn leads to parents to more aggressively try and keep their kids away from spending time in an unreal/non-productive/deceptive world. The situation from this point onwards only worsens.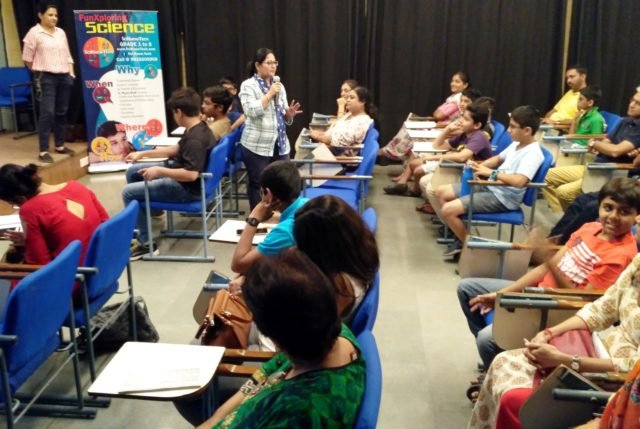 How to manage the delicate triangle involving kids, gadgets and parents?
Ms. Bhutoria then pinpointed that the entire issue is : With increased uncontrolled use of technology and electronic devices, majority of the kids are ending up to be the "Passive Consumers of Technology". It actually has negative potential to hinder their thought process, mental & Physical growth and brings many (if not all) problems mentioned by parents. Rather why not channelize child's curiosity and enthusiasm in thoughtful, controlled and in the innovative way to educate them using new technology of digital world to make them "Active Creators of Technology".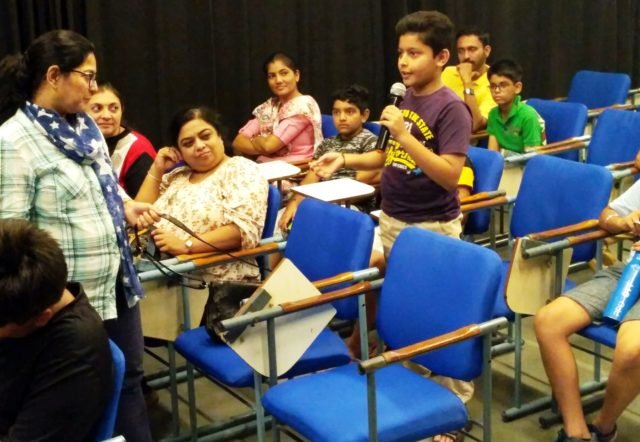 How to make kids Active Creators of Technology ?
Upon subtle hint, kids of grade 5 and up really took charge of this discussion and shared what kind of activities they are involved with that make them Active Creators of Technology.
Kavan Bhavsar (Grade 8 – C N Vidyalaya) educated everyone on what is Scratch and how easy it is to learn basics of coding which helps kids develop new games, application, animations etc and brings out their creativity too.
Dhwanit Shah (Grade 6 – SciKnowTech) shared how he participated in online gaming competition by Google.
Kids shared how few schools have python & HTML coding included as part of the curriculum.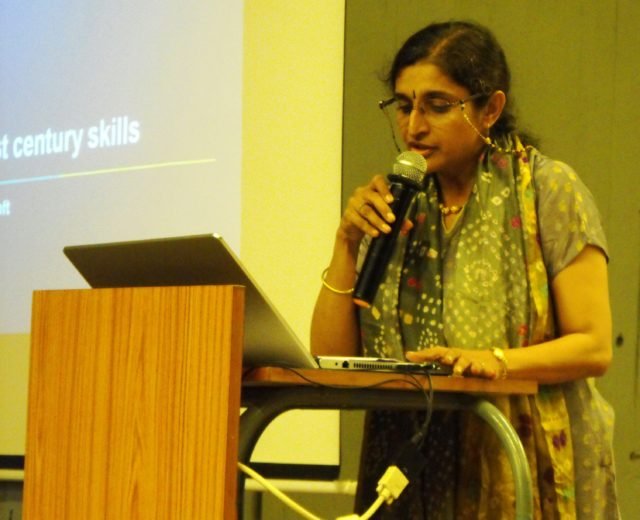 It was also mentioned that kids can start to learn coding as early as when they are 5. as coding is nothing but "set of instructions". It can be taught in form of simple games e.g. blindfold a kid and help him navigate to the other corner of the room. Instructions could be go forward 5 steps, make a left turn and move forward 3 more steps etc.
How to introduce Engineering to school kids as part of STEM approach?
While mathematics, science and technology are already touching lives of kids (age 5 to 18), there is still an unanswered question about how to introduce Engineering concepts to this age group.
The challenge: What adults learn after enrolling themselves for Engineering courses, the same concepts one has to introduce to kids in the most simple way.
The solution: Experiential Learning.
Meghna went on to explain how teaching 'Robotics using Lego' easily introduces concepts like motor, pulley, lever in the most fun way and helps develop qualitative understating. In fact this is where the 2 educator's thoughts coincide. Dr. Megha Bhatt's View on Experiential Learning. (In the 8th minute in this video.)
Experiential learning also develops essential 21st Century Skills like
Problem solving
Critical thinking
Team dynamics management
Effective communication
Towards the end of the 90 minutes long lively session, questions from audience were taken. Parents asked:
How schools can introduce STEM education?
Why use only LEGO to teach Robotics (At Makers Loft)?
The session ended due to time constraint with a cute question from student Om, asking 'Why Poems need to be memorized (while preparing for school exams)? To which another student Neev Kansara of DPS aptly answered that if one doesn't understand what poet is trying to convey, then one has to memorize the poem.